JULIENAS "Cote de Bessay"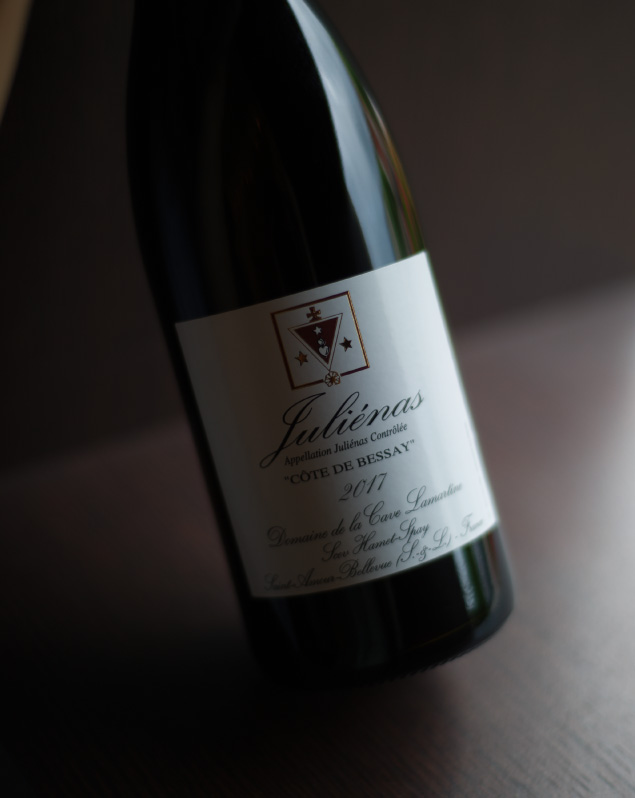 Grape variety and terroir
Our vineyard extends over 3.14 hectares on the southern slope of Mont Bessay. Ideal exposure, where the Gamay enjoys sunny climate conducive to excellent maturity. Cool west winds calm the summer heat. Soils on altered blue stone and deep granite. High planting density, 10000 plants per hectare, limiting production factor. Short and severe pruning in fan form. Average age of the vines: 60 years old.
Vinification and ageing
Manual harvest and maceration in whole bunches for twelve days in thermo-regulated cement or stainless steel tanks. Temperature control below 26 ° degrees Celsius to extend the maceration. Pigging, shedding precede the pressing of the Cuvée. The first juice drawn gives the wine, freshness and fruity aroma. The juice of press brings a tannic structure more bodied necessary to a good aging. End of the alcoholic fermentation at 22 ° degrees Celsius. The malolactic fermentation is carried out at 100%. First bottling in Spring following the harvest.
Tasting
2016: Beautiful dark garnet colour, nice Iris floral nose, red and black fruits, blackcurrant, burlat, spicy nuances, robust wine.
2017: Opulent, tasty, full-bodied wine: a great vintage!
Food and wine pairing
Service at 15 ° degrees Celsius serving with veal roast, pork "filet mignon", grilled beef.