SAINT-AMOUR "Clos du Chapitre"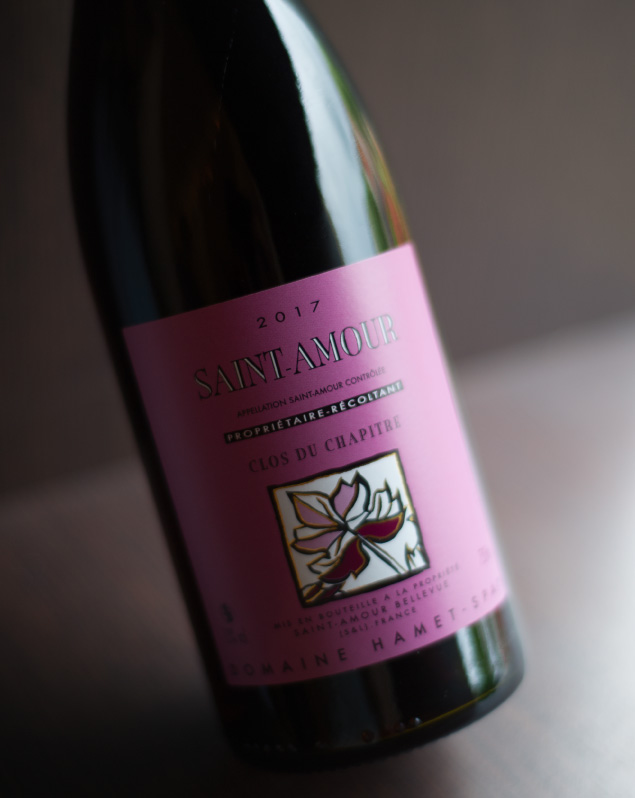 Grape variety and terroir
"L'élégance du Gamay", unique grape variety of Cru Saint-Amour. Our parcels, aged from 40 to 60 years, are exposed in the East at a place named "Clos du Chapitre". Since the Middle-Ages, on this stony soil of ancient alluvium, the religious orders of the Chapter of St. Vincent of Macon developed the cultivation of the vine. High planting density, 10000 plants per hectare, limiting production factor. Short and severe pruning in fan form.
Vinification and ageing
Manual harvest and maceration in whole bunches for twelve days in thermo-regulated cement or stainless steel tanks. Temperature control below 26 ° degrees Celsius to extend the maceration. Pigging, shedding precede the pressing of the Cuvée. The first juice drawn gives the wine, freshness and fruity aroma. The juice of press brings a tannic structure more bodied necessary to a good aging. End of the alcoholic fermentation at 22 ° degrees Celsius.The malolactic fermentation is carried out at 100%. First bottling in Spring following the harvest.
Tasting
2017: Dark purple dress, black fruit nose, a palate of Burlat and cherry stone aromas. A supple and generous wine worthy of a very beautiful year in Saint-Amour!
Food and wine pairings
Service at 15 ° degrees Celsius with Charolaise steak, chicken with tarragon, blanquette stew.