Saint-Amour " Vers l'Église "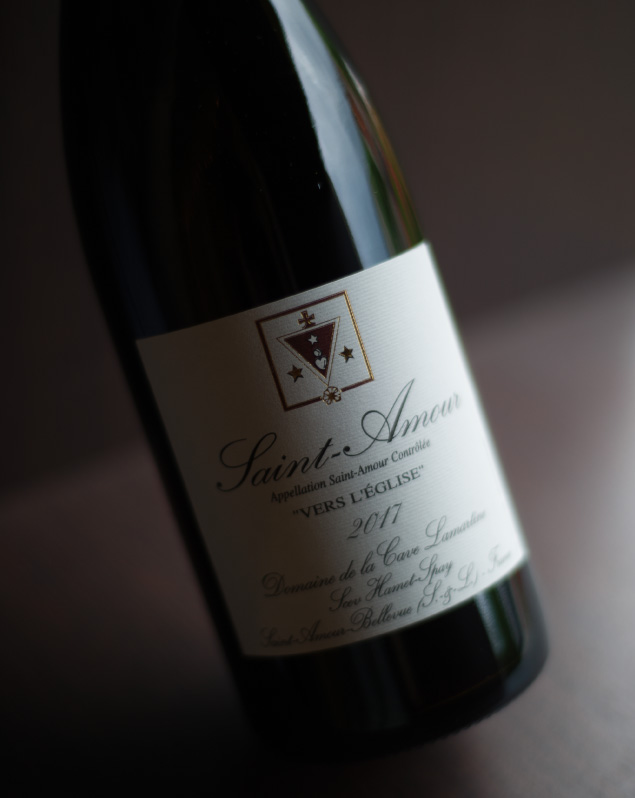 Grape variety and terroir
« « L'élégance du Gamay », the unique grape variety of Cru Saint-Amour. Our parcels, aged 40 to 60 years, are exposed to the East and South on the hillside of the place called "Vers l'Eglise" which overlooks the Saône valley. This terroir is composed of different soils: Blue stones, deep altered granite, clay and flint. High planting density, 10000 plants per hectare, limiting production factor. Short and severe pruning in fan form.
Vinification and ageing
The grapes are picked and sorted by hand. The whole bunches vinification begins with a maceration of about twelve days in thermo-regulated cement or stainless steel tanks. Temperature control is crucial at the time of alcoholic fermentation. It is maintained at 24°degrees Celsius. Pigeage, punching down the cap or delestage, rack and return, precede the pressing of the Cuvée. The first juice drawn gives the wine, freshness and fruity aroma. The pressed juice brings a stronger tannic structure necessary for a good ageing. End of alcoholic fermentation at 22 ° degrees Celsius. The malolactic fermentation is carried out at 100%. First bottling in Spring following the harvest.
Tasting
2016: Deep ruby color, nose red fruit aromas, a delightful promise that come true in mouth, with a palate of fresh fruits, cherry, blackcurrant and raspberry, fine and elegant tannin, peppery finish.
2017: Dark ruby color, nose with ripe fruits, on the palate blueberry and stewed cherry aromas. Generous and delicious wine, its structure is elegant, tender and harmonious.
Food and wine pairings
The Saint-Amour " Vers l'Eglise " can now be enjoyed at a temperature of 15 ° degrees Celsius. It can be kept between 4 and 6 years. Family dishes to share or exceptional meals, it adapts to a wide range of traditional French recipes: dinners, pork, cooked white meats, goat cheese and Comté cheese, chocolate cake. Also good chilled down in the summer for BBQs.
The Saint-Amour is great for wedding meals and other romantic meals such as Valentine's Day.